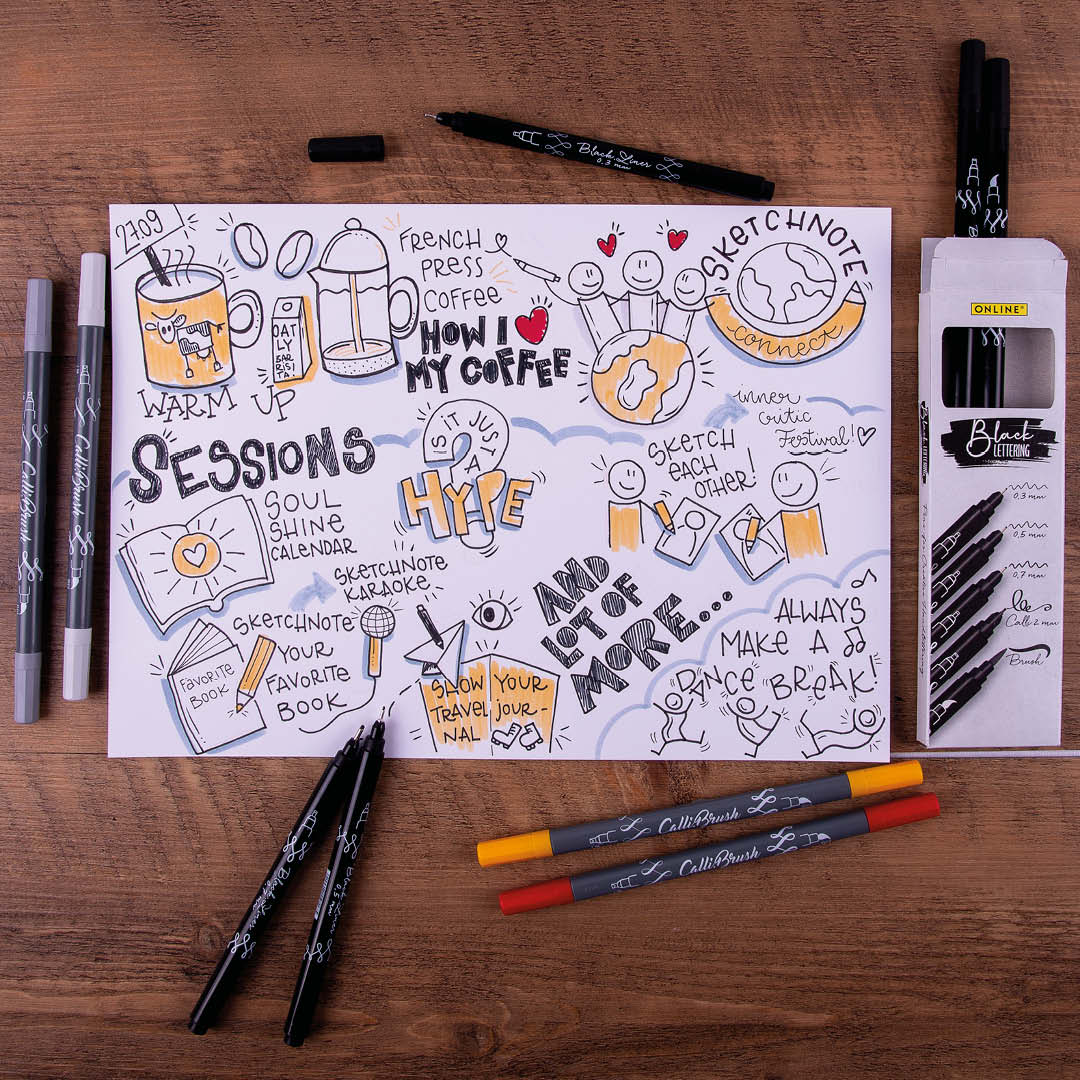 "Glücklich mit Sketchnotes" – Sketchnoting with Black Lettering Set
Online live workshop for beginners and experienced - your creative break with illustrator & sketchnoter Lena Wenz
Zoom-Workshop on Thursday, October 28th
7:00 p.m. - 9:30 p.m.
Sketchnotes. You have stumbled upon this word several times, but you are still not quite sure what it actually is and how to create these pictorial notes? Then you are exactly right here!
The illustrator and sketchnoter Lena Wenz shows you in a 2.5-hour online workshop how to get started with the topic. Everything is under the motto: "What makes me happy!". In the course you will design your own Mindset Bubble in Sketchnote style under supervision. Together with the other course participants and Lena you will develop picture ideas, learn important sketch note basics and get tips on how you can take notes better in everyday life.
The material package contains the following equipment:
• Black Lettering Set
• Calli.Brush Pens Pastell Edition (5 colours): grey, vanille, poweder, lavender, mint
• 1 Brush Pencil (Mechanical pencil 2 mm)
• 1 Bullet Journal
• 15 sheets of white paper
Please note: The workshop is in German language!

If you have any questions, please write to us: marketing@online-pen.de
SAVE THE DATE

---
Anticipation is the greatest joy! So save the date for our next live workshop now!

The next workshop with the artist Ute Gräber will take place on November 25th.

Become a Lettering pro!

---
You are fascinated by Handlettering, Brushlettering, Blending...? You would become better with your handwriting or simply get creative? Then attend to our Live Online Workshops!

We at ONLINE work together with interesting Lettering creatives and offer live Workshops on Zoom. Look at the workshop description if the course is for beginner or intermediates. Currently the workshops are in german language only.
Get your workshop:
1. Take the course you are interested in (all workshops are without shipping costs)

2. Add the course to your shopping cart

3. Proceed to checkout and payment
4. When you order the course "mit Materialpaket", you get the materials shipped to your address
5. Approximately 24 hours in advance the course is starting, you get an e-mail with the link to the live Workshop and further details

6. Klick on it - lets go!